Do You Know Who Your Next Client Is?

Too many coaches tell me they feel like marketing is a black hole – no matter how much time or money they put in, nothing seems to come out.

No leads, no new clients -- nothing.

Do any of these issues sound familiar?

You struggle to attract clients, referrals and alliances
You try to create marketing materials that apply to everyone – and end up applying to no one
You spend countless hours creating products that sell poorly
You always feel like there are too many irons in the fire as you try to impress everyone at once

In most cases, the root of the problem centers around target market, or "niche" – specifically, the lack of one.

Why Do You Need a Niche?
When you claim a niche, these problems essentially vanish. Imagine if you could:
Make it easy for clients to find you
Focus your limited marketing resources on prospects who are most likely to hire or buy products from you
Build credibility with an audience that is eager for the products and services you have to offer
Fill your pipeline consistently, and with ease
Create the sustainable, profitable coaching business you've always envisioned
Niche Made Easy
Many coaches find the prospect of choosing a niche intimidating, so I've created an easy-to-use workbook to walk you through the process. Identify Your Niche: A Workbook for Coaches is designed to help you determine your target market without re-inventing the wheel.
This new workbook:
Uses a step-by-step self-guided process to walk you through this important decision
Helps you identify several potential niches, then guides you through the process of choosing which one is best suited for you right now
Allows you to work at your own pace
Buy this e-book! What a resource for all coaches, new and experienced! How I wish a workbook like this had been available 9 years ago when I launched my coaching business.
It would have saved me stressing about my niche and I could have marketed myself with greater focus and clarity like this empowers you to do. Ari's approach is user-friendly and straightforward. Get started now!

Mary Jo Hazard, MCC
Carpe Diem Coaching
Purchase Your Copy Now for $29.95!
When you make your purchase through our secure online ordering process, your workbook will be delivered instantly through our website.
What's Included
This workbook has been designed from the ground up to make the process of choosing a niche easy and interactive. In fact, you'll get many of the benefits of working one-on-one with a coach, but at a fraction of the price.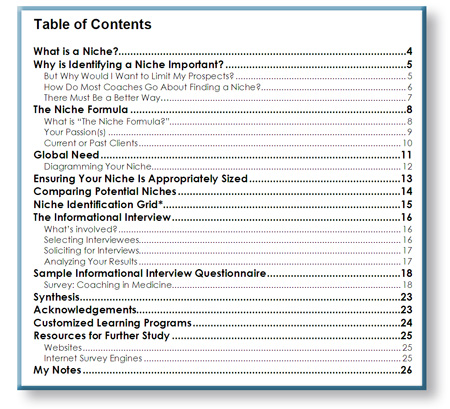 This workbook doesn't just tell you how to go about choosing a niche, it's also packed with probing exercises to work you through the process in real time.
Getting to one's niche is worth hundreds or thousands of dollars, niche is that critical. This workbook can help coaches (as it has helped me) move along that path towards a solid niche.
Niche is everything in marketing. It tells us where to find our right people. Once we know that, we can spend our marketing time and energy effectively, so that it is both powerful and "easy." Getting to the right niche is huge!

Dave Kaiser, Ph. D.
Dark Matter Consulting
Why This Workbook is Special
My clients have told me there isn't anything like this on the market. This workbook is the product of my work with numerous coaches on this issue, and I wrote it because it's the kind of guide I wished I'd had when I was getting started. There are a few things that make this product different from other resources available
It's exclusively focused on helping you find your niche - save time and money by only paying for what you need
My unique 3-step process, The Niche Formula, guides you through the process, from brainstorming through to market research
I've combed through a considerable number of marketing and business resources to simplify the process – so you don't have to
There's no need to spend months on expensive coursework or CD sets. I've distilled what you need to know into a single, compact resource - no fluff, just valuable content.
Absolutely wonderful! In an afternoon, I had made great inroads in identifying a niche but I also found myself thinking about and returning to the exercises days later. It really got me thinking in a different way.
This e-book was easy and enjoyable to read and really succeeded in getting me to go step-by-step through the process. By the end I was excited and energized and ready to move into action!
It had tons of great ideas, all in one place (unlike when I do my own research where I tend to wander about before finding something useful). As a part-time coach for 3 years, I found this e-book especially helpful to clarify (and narrow) my niche.

Sara Reddington, CPCC
POW! Life Coaching
Online Safety
Shop at IdentifyYourNiche.com with confidence. We have partnered with Authorize.net and PayPal to offer safe and secure credit card and online payment transactions for our customers.

IdentifyYourNiche.com is registered with the Authorize.net Verified Merchant Seal program, and I have been a Verfied Business Seller with PayPal since 2005. Click the seals at right for more information.
Purchase Your Copy Now for $29.95!
Click the button below to purchase your copy through our secure, online purchasing system now, and our online delivery system will allow you to download your workbook immediately through the web.
100% Satisfaction Guarantee
I'm so sure you'll benefit from this workbook, I'll give you your money back if you're not happy with the workbook. Just let me know within 30 days, and I'll refund your full purchase price, no questions asked.
Your workbook was easy to read and follow, the exercises were easy to complete, and the humor interspersed with the material creates a wonderful space to work in.
As I have had no previous marketing experience, it was a great help to really understand the necessity of finding a niche sooner rather than later. To begin this overwhelming journey, and to have a process to apply, was immensely helpful.
As a new coach, it's very stressful whenever someone asks, " what kind of coach are you?" ... The workbook, breaks it down, in easy and manageable steps.

Lorraine Weir
Inside Out "Intentional Life" Coaching
Still Have Questions?
Feel free to email me at info@coachingtree.com, or give me a call at (630) 557-6009 - I'd love to hear from you!
Wishing you ease as you create business success,

P.S. Don't miss out on this great opportunity! Remember, this is a risk-free offer: if you're not satisfied, you've got nothing to lose. Click here to purchase your copy now for only $29.95!
About The Author
Ari has inspired both individuals and groups to their peak performances for more than 20 years as a musician, educator, speaker, and clinician.

Ari currently focuses on two distinct niches. Since co-founding the Coaching Tree in 2004, she has worked extensively with developing coaches as they progress through training, prepare for certification, and launch their businesses to new heights.

She is also the founder of Sound Strategies Coaching and Consulting, where she specializes in leadership and teams, as a coach, facilitator, presenter and trainer. Her clients include executives, entrepreneurs, and teams who are ready to claim their vision and develop the "leader within."

She uses her energy, passion, and insight to empower her clients to success, as they turn their vision and innate wisdom into action and results. Ari's clients benefit from her ability to brainstorm novel approaches to daunting projects, and enjoy her easy rapport, sense of humor and unwavering dedication to each client's personal and professional vision.